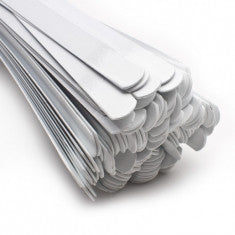 Switch Out Front Boning To Steel-Instead of Fiberglass Rods
*For this corset alteration, I take out our sturdy, rigid fiberglass rods and replace them with 1/2" steel boning. 
*This is good for people who are extremely short waisted (generally under 5'1"), have floating ribs that can't stand much pressure, or who simply cannot maintain a straight posture for numerous hours.  This can be a good option for making the corset wearable underneath clothing, on an every day basis, as it provides much firmer structure and better fit than a back brace or belly binder. However, I am in no way suggesting any medical cures. Obviously, check with your medical care provider if you need some serious intervention in the way of your spine. Don't mess with that stuff! 
*Another good thing to note here-if you are looking into "waist training", first, EDUCATE yourself on what it actually is, how long it takes, and the various different methods from reasonable to absolute extreme. Second, please remember that any method of changing the body is done by combining the mind, spirit, and body. My corsets are not going to "make you skinny" unless your mind is willing to accept a certain version of you and be satisfied and safe with that. I have women come up to me all the time and ask me if these will "make them skinnier" (The odd thing is that most of these women already have gorgeous shapes, and I can't understand what they're complaining about...). No amount of dieting, exercise, or even corsetry is going to "fix" someone who inherently believes they need...um...."fixed". Make sense? 
*It is good to note, you WILL NOT get as tight of a lace with this softer boning. I would recommend buying a size that is 1-2 inches larger than you would measure, according to our specific instructions. 
---
Share this Product
---
More from this collection